---
What is a dental implant?
Many patients choose implants to replace a single tooth, several teeth, or to support a full set of dentures. Implants are posts (metal "roots") that are surgically placed in the upper or lower jaw, where they function as a sturdy anchor for replacement teeth. They are made of titanium (a strong, lightweight metal) and other materials that are accepted by the human body.
A dental implant may be right for you if you:
Hide your smile because you have missing teeth
Wear dentures that are uncomfortable
Are dissatisfied with your removable partial dentures
Want to keep your other teeth intact
Most patients find that an implant is a good replacement for their missing tooth because it is secure and stable. A tooth implant is a surgical procedure, so it's not an option for everyone.
Good candidates for an implant include people who:
Are in good overall health
Have adequate bone to support the implant, or be able to have surgery to build up the area needing the implant
Are ready to commit to a daily oral care routine and to regularly visit a dentist
People with chronic illnesses or those who use tobacco and other products such as electronic cigarettes may experience slow healing, and may not be a good candidate for implants. We can help you decide if implants are a good treatment option for you 
---
What's Involved With A Dental Implant?
The length of treatment depends on many things, including type and location of the implant, your bone structure and overall health. Your dentist will outline the treatment plan with the best chance of success for you. There are three general phases of implant treatment:

Placement of the Implant
The dentist surgically places the implant into the jawbone. There may be some swelling or tenderness after the surgery, so pain medication is usually prescribed to ease the discomfort. The dentist may recommend a diet of soft foods during the healing process.

The Healing Process
What makes an implant so strong is that the bone actually grows around it and holds it in place. This is a process that takes time. Some patients might need to wait up to several months, other patients can have the implants and temporary teeth placed all in one visit.

Replacing your missing tooth or teeth
The dentist or a lab will custom-make a crown, bridge or denture to fit you mouth and your implants. Once completed, the man-made teeth are attached to the implant posts.
Good oral hygiene is very important to the success of the implant. You'll need to make sure the area around the implant is especially clean. Your dentist may recommend that you use a special toothbrush, called interproximal brush, or a mouth rinse to help prevent gum problems.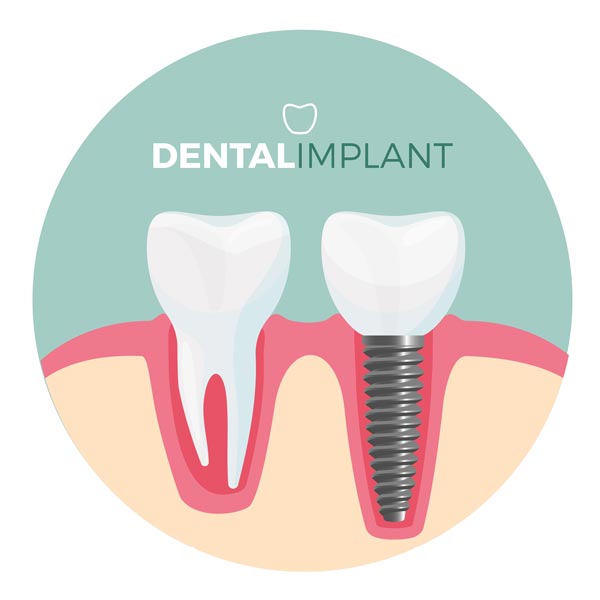 Most similar to a natural tooth, and is often more comfortable
Nearby teeth stay intact and don't have to be involved in the placement procedure
Can last a lifetime with good care
Implants require surgery, so they are not right for everyone
Implant placement may take longer and may require more dental visits that other options
Implants may be more costly than other treatments